Crossfit Real Life – CrossFit
Warm-up (No Measure)
3 Rounds
25 Jumping Jacks

25 Mountain Climbers

10 Push Ups

10 Squat Jumps
Stretching and mobility

– quad stretch

– hamstrings

– Leg Swings

– arm circles and Swings

Etc..
Metcon (4 Rounds for reps)
TABATA – 4 movements (8 rounds of 20 secs on and 10 secs off per movement)
R1: Weighted Thrusters

R2: Weighted Overhead Squat

R3: Weighted Situps

R4: Burpees
– Finish all 8 rounds of 1 exercise before moving to the next one

– Keep a 10 second gap between each movement as transition time

– try to keep each round evenly paced – don't get too slow and drop your speed after a few rounds. Try to keep an even pace. Start at a moderate pace and try to maintain it.

– count reps of each movement individually (all Burpees together, all sit ups together etc.
– water bottle Thrusters – these can also be done with Any weight /Weighted backpack

https://youtu.be/Im5-lRFcEiY

Or
https://youtu.be/cktpLb_yKj0

Or
Metcon (No Measure)
Cash Out – Sally Squat challenge
Follow instructions on the video
Try this with Willing family members
Tag 5 friends on instagram

Post a video doing it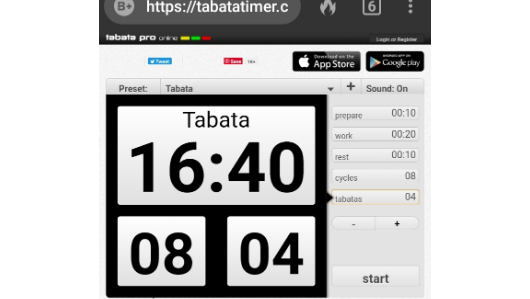 Wod timer